4 Ways to De-Winter-ize Your Skin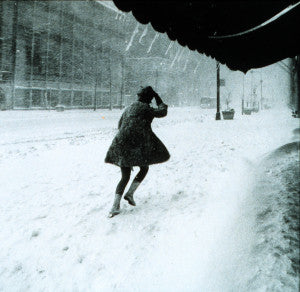 It's January. In most parts of the country you have to put on three layers of clothes just to leave the house. (I once lived in NYC and Chicago- my heart goes out to you). Those cold temperatures definitely take a toll on the skin!
How does Old Lady Winter Do it?
It's a combination of the wind, central heat, and low humidity. All three can strip the skin of its natural moisture. Taking hot showers can dry the skin out more, as can moving between extreme temperatures.
The solution? Stop showering and lock yourself in the house for the next three months. Just kidding! We've got some easy tips to abate the winter assault on your skin!
1. Cut the Detergents
We know harsh chemicals can aggravate the skin, and this aggravation added to your skin's natural dryness makes winter skin worse! Cut out any cleansers that use detergents, such as sodium laurel sulfate, and all its derivatives. These detergents (also found in your dish soap to cut grease!) remove more oil from the skin's protective barrier.
2. Pick up a Humidifier
For all those who don't have the time or funds to take a tropical holiday in February, just get a humidifier! See how it mimics the swaying palm trees and ocean breeze?
Central heat naturally has low humidity. Add moisture back to the air by using a humidifier or put a bowl of water near your radiator.
3. Exfoliate, Exfoliate
If you have dry skin, you likely have dry skin cell buildup. This buildup prevents your moisturizer from reaching the deeper layers of skin. In the winter, it's safe to exfoliate every other day. We recommend one of our Pink Salt Scrubs, chalk full of vitamins and minerals from the ancient salt beds of the Himalayas.
4. Moisturize with Purity (OILS!)
It's winter, your skin is dry, and you don't have time for the fillers and chemicals. Drop your lotion and try an oil instead. Drop your hand cream and try a hand salve instead. Lotions and creams are usually half- if not more than half- water. Plus, anytime a formula has water, you can believe it also has harsh preservatives and chemical emulsifiers. These fillers and additives are NOT contributing to your glowing moisturized skin! Skip the filler and apply straight oil. Your skin will thank you!
How are your feet doing? How about some DIY soaks for tired feet?