5 Senses Gift Ideas: an Unforgettable Gift for your Partner, Mom, or Best Friend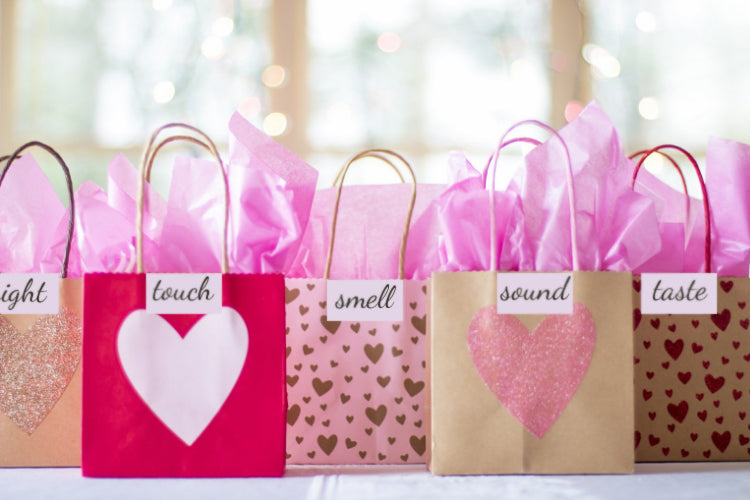 Whether the occasion is anniversary, birthday, or Valentine's Day, a 5 senses gift is a lovely detour from the predictable belt/socks/gift card. Not only will this gift surprise and delight, it is also so much fun to put together, getting you in the gift-giving spirit of truly considering how to indulge your loved one.
Although 5 Senses Gifts are often considered for romance, they are also very thoughtful gifts for Mom or a best friend. Check our idea list below for anyone you would like to pamper!
What is a 5 Senses Gift?
A 5 Senses Gift is just what it sounds like- a collection of gifts, either presented in a gift basket, or wrapped individually, that focuses on each of the five senses: Sight, Smell, Taste, Touch, and Sound.
There are some gifts that check several boxes, so you can make the 5 senses gift happen with less than 5 gifts (you can see those options below). Either way, we're here to give you some excellent ideas for a 5 senses gift. Make sure you read to the end to get a free printable download to help you package your gift just right!
Touch Gift Ideas
Massage Oil- Check out these that satisfy 3 senses

 

(touch, smell, and TASTE!)
Manicure
Soft hooded blanket
Plush house shoes
Silky robe or underwear
Smell Gift Ideas
Cologne/Perfume Oil- Check out our perfume collections for some great affordable options!
Essential oil diffuser
Flowers or potted herbs
Scented Soap
Taste Gift Ideas
Homemade cookies or sweets
Restaurant gift card
Chocolates
Wine or Beer
Edible Massage Oil (We told you this one checks multiple boxes!)
Sight Gift Ideas
Movie tickets
A framed photo
Wall art
Book
Lingerie (what a sight you'll be in it!)
Sound Gift Ideas
Wireless headphones or speaker
Concert tickets
Soothing waterfall machine
Music playlist
Audible subscription
Presentation + FREE Printable
Now that you have a few ideas percolating, how will you present this amazing gift? You could place them all in a gift basket with a card, or you can wrap them individually in gift bags with gift tags attached.
Click here for a free download of some digital art to print and cut for your gift.
Happy Gifting!