Soliflores: A Return to Restful Symplicity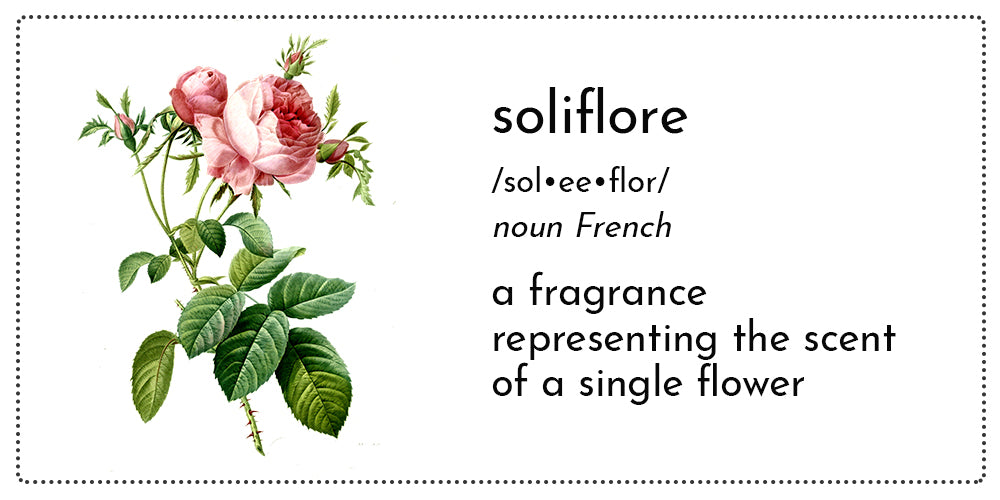 Here at Herb & Root, we love a good perfume accord. Most of our current scent lineup is composed of dueling notes, simple, yet complex in the way they dance together effortlessly.
Soliflores, or single note fragrances, were all the rage during the 19th century. Back then, most fragrances could be classified into 7 olfactory families. But by 1945, due to advances in perfumery compound design, modern perfumery took over with vague, mood-centric compositions like Jicky by Guerlain (1889) and Chanel No. 5 (1921). Most modern perfumes tend to focus on a single note in the spotlight, but often build a chorus of complimentary notes around it to provide a new interpretation.  Meanwhile in Britain, traction for soliflores continued, perhaps due to a love for gardening and afternoon tea. 
Our customers have been asking for soliflores for a while, searching endlessly for that single note that brings back childhood memories of mother's rose garden or a honeysuckle ivy growing on the window. It seems like the right time to bring soliflores back into the limelight for several reasons:
1. Contrary to popular belief, soliflores are not simple. Each plant is infinitely complex in its olfactory repertoire. The beauty of soliflores is they focus our attention on a single plant, enabling us to experience it fully.
2. Soliflores speak to our craving for restful simplicity, for authenticity. We adorn ourselves with fragrance to connect with nature, and what better way than by narrowing our experience to one particular plant?
3. Soliflores make amazing starter scents for young people. They ease the young mind into a library of single note scents, helping him/her later to identify favored scents in the future in a subtle, nonintrusive way.
4. Speaking of non-intrusive, soliflores are great subtle fragrances for scent-sensitive spaces at home or work. The simplicity itself renders them more admissible in public places without offending others with a giant inescapable cloud of unrecognizable aroma. A soliflore is simple, subtle, and easily mistaken for the smell of soap, laundry detergent, or a bouquet of flowers in the office.
Ready to explore some popular single notes?