A Gift from the Magi: Why was Frankincense so Valuable?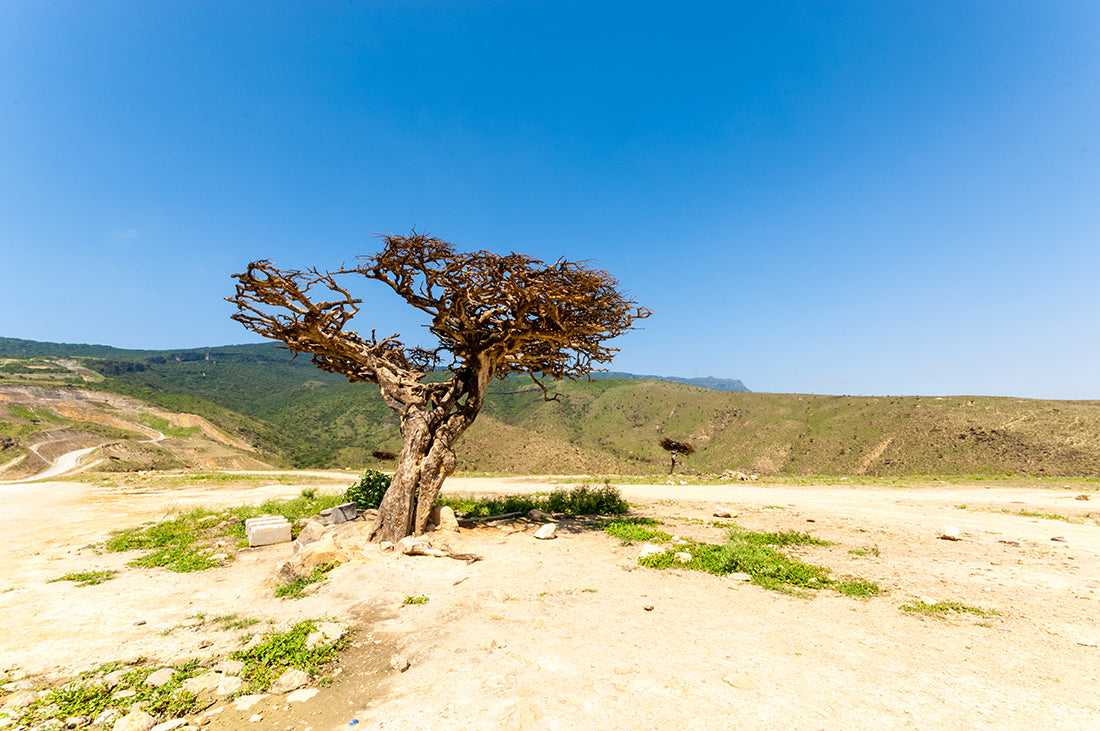 We often hear about Frankincense & Myrrh during the holiday season as it relates to Biblical history. As the story goes, three wise men brought to newborn Jesus, gifts of gold, frankincense, and myrrh.

We all know that gold still is valuable, but few know that frankincense & myrrh were just as valuable as gold 2,000 years ago.

Frankincense tree in Oman, the only region of the world where Frankincense thrives.
What are frankincense & myrrh?
Frankincense & myrrh are both tree resins, or gummy sap that oozes from the bark of two different trees native to the Arabian Peninsula and Northeast Africa. Incisions are made in the bark of the tree during important times of year, and the sap pours out.
What were they used for?
Frankincense and Myrrh have both been traded for over 5,000 years.
They are extremely fragrant, and both were used as perfumes and incense during religious ceremonies among Greeks, Romans, Egyptians, and Israelites. Frankincense is sweet and citrusy, while Myrrh is piney and bitter. 
The smoke from burning Frankincense drives away insects.
Due to their proven antiseptic and anti-inflammatory properties, they were used in salves for wounds and sores, for indigestion, chronic coughs, and to embalm bodies.
How did they become so valuable?
The sacred trees that produce Frankincense and Myrrh are almost impossible to grow outside of the Arabian Peninsula, which meant they were constantly in short supply and high demand. According to a famous Roman historian, the sap made the Arabians the richest people on earth by Jesus's time, more valuable than gold. Frankincense alone is responsible for creating the trade routes linking southern Arabia to India, the Mediterranean, and the Silk Road in China.
The demand for Frankincense and Myrrh waned with the rise of Christianity, which forbade burning of incense because of its associations with pagan worship. The resins would return to the Catholic Church as a ceremonial incense many years later.
How are Frankincense & Myrrh used today?
Herbalism and Chinese medicine continue to use the resins for their antiseptic properties, although modern medicine has wiped out their use in mainstream society. Today, in Western Oman where the trees flourish, frankincense is used in deodorant, toothpaste, and as a food and drink flavoring.
Recent studies have shown that frankincense and myrrh can help treat high cholesterol, Crohn's disease, anxiety, and asthma, among other illnesses. 
Interested in experiencing this ancient perfume? Check out our Frankincense & Myrrh Anointing Oil.