Is talcum powder safe to use?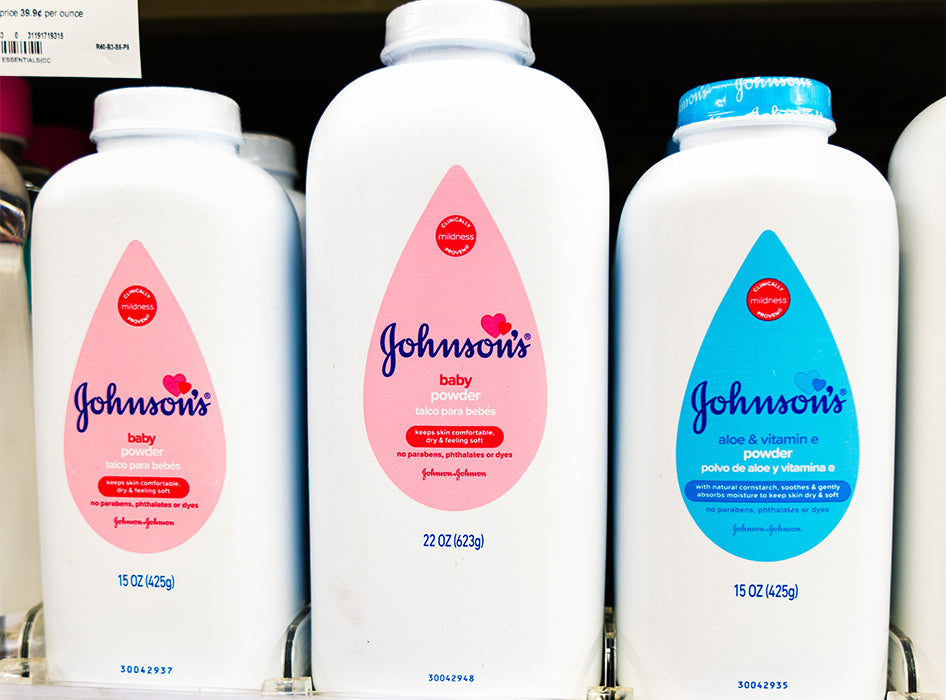 You may have noticed that talc is the newest commonplace cosmetic ingredient to get axed from shelves across the nation. Despite decades of keeping its dirty talc secrets hushed, centurion health and pharmaceutical company Johnson & Johnson is finally getting called to task over what's been creeping into its most popular commercial product. But that's the middle of the story. Let's start at the beginning.
An icon is Born
In 1880s almost three quarters of America's population lived in rural areas, with little access to (or interest in) hospital care. Your neighbor could pop over to the drug store and pick up some opium and perform surgery right there on your kitchen table.
The medical system was undergoing a sea change as Dr. Joseph Lister introduced the first antiseptics to consumers, which, for the first time, were being used to clean wounds and surgical wear. Three brothers in New Brunswick, New Jersey- Robert Wood Johnson, James Wood Johnson, and Edward Mead Johnson- sought to capitalize on the changing medical landscape. In 1886, they formed Johnson & Johnson, which launched wildly successful ready-to-use surgical dressings and the first commercial first aid kits.
In 1894, the company launched its iconic baby powder made of crushed talc. The powder was originally sold as part of a maternity kit and distributed to midwives who passed it on to mothers following childbirth. Mothers loved the powder so much, Johnson & Johnson started selling it to drugstores as part of Johnson's Baby line, earning them the reputation for making baby products that were "exceptionally pure and safe."
But wait, what is talc?
Talc is a chalky clay mineral mined from deposits in the Northeastern US, Italy, Brazil, and China. Due to it's light silky texture, talc is useful as a thickener and a lubricant, and is ubiquitous today in many industries, including paper making, plastic, rubber, food, pharmaceuticals, ceramics, and just about every cosmetic product you can imagine.
By itself, talc is generally regarded as safe by the US FDA. The problem is that talc is found in geological formations commingled with deposits of white asbestos ore. Mining companies started attempting to separate the two minerals in the 1970s, but haven't been able to fully mitigate the hazard. Mined talc, often contaminated with asbestos, ends up in products that we use every day.
Talc mineral in its natural form.
By the 1970s, linkages between talc and asbestos started to surface.
In 1971, doctors as Mount Sinai Medical Center discovered  that particles of talc were embedded in 75% of the ovarian tumors studied. The FDA opened an inquiry into cosmetic talc powders. J&J assured the FDA that asbestos was not detected in any sample of its tests. Subsequent tests of the powders found "insignificant" amounts of asbestos in the samples. Even after years of urging from J&J researchers to replace the talc with an alternative, the company refused. Instead, it urged the FDA to promote self-policing as an alternative to regulation.
But the studies and concerns kept coming! A 1982 Harvard University study found that women who reported the use of talc around the genital area were 3X as likely to develop ovarian cancer. In the 1990s, the FDA ordered manufacturers of surgical gloves and condoms to stop applying talc to their products due to health concerns.
Plaintiffs vs Johnson & Johnson
In 1999, 52-year-old Darlene Coker filed a lawsuit against Johnson & Johnson, claiming that her cancer, mesothelioma, was caused by decades of exposure to Johnson & Johnson's baby powder. The company won by denying the claim. But Coker's lawsuit was the tip of the iceberg.  As of October 2019, J&J had over 15,000 pending cases about their baby powder, at the estimated cost of $5bn.
As the lawsuits rolled in, plaintiffs pressed for internal company documents, which revealed that J&J had notice that its products were contaminated with asbestos as early as the 1950s, with three studies in the 1970s showing positive results for contamination, in one case at levels reported as "rather high." Company executives and their lawyers went back and forth over how to address the problem while keeping the info hushed from regulators and the public.
In response, the US Justice Department launched a criminal investigation in July 2019 to determine if J&J purposefully misled the public about asbestos fibers in its talcum powder.  In October 2019, FDA regulators found trace amounts of asbestos in samples of Johnson & Johnson baby powder purchased online. In response, Target, Wal-Mart, CVS, and Walgreens pulled the related products from the shelves.
So how does the story end?
The tragedy of this story is that so many victims trusted the pharmaceutical giant to be the gold standard of ethical behavior in the pharmaceutical industry. Yet, despite evidence over at least 40 years of asbestos contamination in its products, Johnson & Johnson refused to acknowledge or change its product before it harmed more people.
But this story ends on a happy note. We now KNOW that there are traces of asbestos in talc products and we can choose an alternative. There are some really AMAZING talc-free body powders on the market today, and most are produced by small family-owned brand like ours. Although we're in the midst of a giant iconic product that's been around for 125 years crumbling before our eyes, new things are coming, and they won't give you cancer!
Check out our list of the top talc-free body powders on the market today.